Sai Cheng boost Tmall sail off the sea
At 18:00 on April 10, 2018, with the successful completion of the final system test of order, Sai Cheng's "Tmall sail off the sea- China-Australia Shipping Line" was formally launched on Tmall platform, this marks that Sai Cheng International, designated as the official shipping carrier of Tmall, has successfully developed and finalized the logistic solution of " Door-To-Door Shipping Line (Solution for Large Item)" to Australia. Meanwhile this means the obstacle has been eliminated from transport perspective for Australian overseas terminal buyers to purchase large items through China e-commerce platform.

As the core strategic module of Tmall International, "Tmall sail off the sea" had a turnover of nearly 500 billion RMB last year. There was no mature online transportation solution to Australia, one of the major destinations, for large item yet. Under the situation that Tmall vigorously explores the overseas market in Australia, it has been extremely urgent to develop B2C logistics transportation solution to Australia for large size and whole category products.
Cainiao logistics has had dialogues with Sai Cheng for Tmall platform and since the project was launched, Sai Cheng has actively responded to the solution requirements of Tmall and Cainiao, and has focused its efforts on the development and integration of the project. From warehouse inbound to export declaration, and from clearance to last-mile delivery, Sai Cheng has step by step got every detail of the channels in place. Sai Cheng's Australian team worked together to focus on two major issues of "clearance" and "last-mile delivery" for large items in Australia, which has made a new breakthrough for the entire product compared with the traditional "ocean transport + delivery" approach.
After Sai Cheng and Tmall completed the first systematic joint adjustment, the first FCL of test orders was shipped out on March 13, arrived at Botany Port, Sydney, Australia on March 31, and was then cleared and picked up by Sai Cheng Australian team on April 2. The testing items are all large size sold on Tmall platform, including mattresses, sofas, TV cabinets, outdoor tables and chairs, etc. Among them, for the single piece there is a maximum volume of more than 1.5 m3, and the maximum weight close to 90 KG. The successful conduct of this order test shows that Sai Cheng's "Door-To-Door Shipping Line (Solution for Large Item)" has officially landed from theory to reality and channels of the solution have all been open. The "Big challenge" is no longer a difficulty.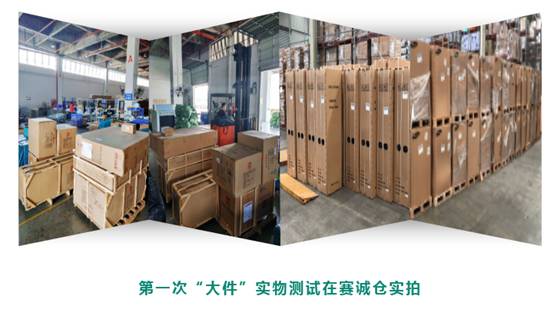 The offline display event of "Flash Store" hosted by Tmall Alibaba will be held in both Sydney and Melbourne on April 19th. The store will then display to Chinese customers in Australia the home furniture shipped from China by Sai Cheng. During the event of "Alibaba's Night" held in Australia on 24th Apr, as the only shipping line service provider of Tmall Online, Sai Cheng team will also be present to introduce the advantages of Sai Cheng's transportation solutions and the ability to provide value added services such as last mile deliver and on-site installation.